Washington DC
The seat of Government in the most powerful nation in the world cannot fail to ignite the mind and inspire any student of US History and Politics. Even more to the fore after recent elections and political machinations, a study visit to Washington DC is a great choice for your next educational trip. Why not consider combining it with New York or even a triple centre tour taking in Boston or Philadelphia? With a wide range of exciting, subject-relevant study visits we can create a range of exciting options that will enable you to really get under the skin of this fascinating historical and cultural region.
Fabulous Washington DC monuments

Arlington National Cemetery

The Smithsonian Institution museums
Gettysburg National Military Park visit

Multi-centre trips with New York, Philadelphia, Boston
Thomas Jefferson's Monticello
Located in Charlottesville Monticello was the spectacular home of president Thomas Jefferson, your group can visit and take a tour of the beautiful house and gardens, see a presentation and learn about the history of slavery among many other fascinating elements.
-
George Washington's Mount Vernon
Situated approximately 25k outside Washington groups can visit the historical home of the U.S's first president George Washington, where he lived with his wife Martha from 1759 until his death in 1799.
-
Gettysburg National Military Park
The Battle of Gettysburg was one of the key turning points in the American Civil war, the most bloody battle of the conflict and the one that inspired one of the most famous speeches made by Abraham Lincoln, "The Gettysburg Address". Groups can visit the battle site with expert guides and gain a deep understanding of the events through interactive workshops and museum.
-
National Archives Building
A fascinating visit for history and politics groups, the national Archives Experience charts American history through documents, photos and a number of extremely important artefacts, including the Declaration of Independence, Lee Harvey Oswald's gun that killed President Kennedy and many others.
Subject-specific trips
We can tailor your school or college trip to include a range of specialist subject-specific visits to meet your objectives for the trip. With so many varied and interesting educational and cultural possibilities in the region, we will build a tailor-made tour programme and itinerary to meet with your requirements and priorities. Learn about American political history past and present in this fascinating and iconic city and its surrounding area.
Sample Itinerary
New York & Washington DC (via Philadelphia)
Day 1
Morning departure from UK. Afternoon arrival in New York. Transfer to your hotel and check in. A bit of free time before evening meal at Hard Rock Café.
Day 2
Morning visit to the fascinating 9/11 Memorial Museum. Afternoon make your way to Battery Park to take the ferry to the Statue of Liberty and Ellis Island museum. Evening meal at Planet Hollywood.
Day 3
Enjoy a morning visit to Empire State Building. Enjoy amazing panoramic views of the city. Grab some lunch and then make your way to the United Nations Headquarters for your afternoon visit. Freshen up before an early dinner and then on to an evening Broadway show.
Day 4
Morning meet your coach for transfer to Philadelphia. Stop-off in the city and a chance to visit the Liberty Bell and get some lunch. Onward journey to Washington DC. Check in to your hotel and evening at leisure.
Day 4
Morning guided walking tour of Washington DC. Take in the iconic monuments and memorials. Afternoon visit to the National Museum of American History. Evening dinner at Pinstripes Bistro and bowling.
Day 6
Morning visit to Arlington National Cemetery. Chance for some shopping at Potomac Mills shopping mall en-route back to the airport. Afternoon departure of flight home.
Day 7
Morning arrival back in the UK.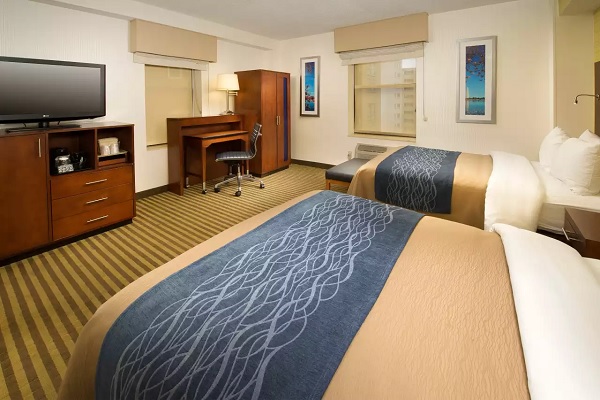 Washington DC hotels
Most groups choose to stay in hotel or motel accommodation on a bed and breakfast basis. We use various options to suit your budget, including the Comfort Inn Downtown, Holiday Inn and Hyatt Place. There are always plenty of local restaurants at good value for money nearby.
Other educational trips you might like